Quote:
Originally Posted by
wpugh2424
The picture above with all the figures displayed
I couldn't get th clarity to be great but it looked awesome from what I could tell
There is a larger image if you click on that one but that is the
largest pic
I have.
I only have a couple close-up images. This one is newer, but it's missing a SWAT Turtlebot and a lot of mousers so it's still pretty old.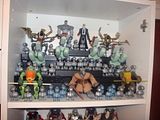 Found these at a flea market